(List of things you can donate)

The Mighty Dolphins are a 501(c) 3 non-profit, youth flag football program designed to promote positive behaivor, enhance social skills and improve the athleticism of youth ages 4-14 through the sport of flag football throughout the City of Miami and Miami-Dade County. Since its inception in 2009, the Mighty Dolphins has touched the lives of 300+ individuals and will continue to touch many, many more.

The Mighty Dolphins NEEDS YOU:

DOLLARS

Donating dollars allows us to purchase materials, help with travel arrangements (tournament registration, hotels and transportation), maintain equipment for program activities, increase the number of services we offer and so much more.

When YOU donate money to the Mighty Dolphins you can be assured that each dollar goes directly to supporting an important program and a wonderful cause.

PRODUCTS

It takes more than just money to keep things at the Mighty Dolphins Youth Flag Football Travel Club going - footballs, gatorade, uniforms, and trainning items are also big necessities. Our headquarters host "The Mighty Dolphins Cleat Bag;" this bag is filled with old and new football or soccer cleats for our young athletes who can't afford them and are need them.

To donate products, call (786) 316-6359.

TIME

Time is valuable and precious… especially when it's given to the Mighty Dolphins. Use your time wisely, become a team parent, help host a event, a volunteer or become a coach today.

For more on coaching, visit Coach Today or call,

 (786) 316-6359.

Your "much needed" contribution - be it dollars, products, or time – makes it possible for us to continue to empower the young athletes in our program. Remember, all monetary and product donations are tax deductible. 

Thank you.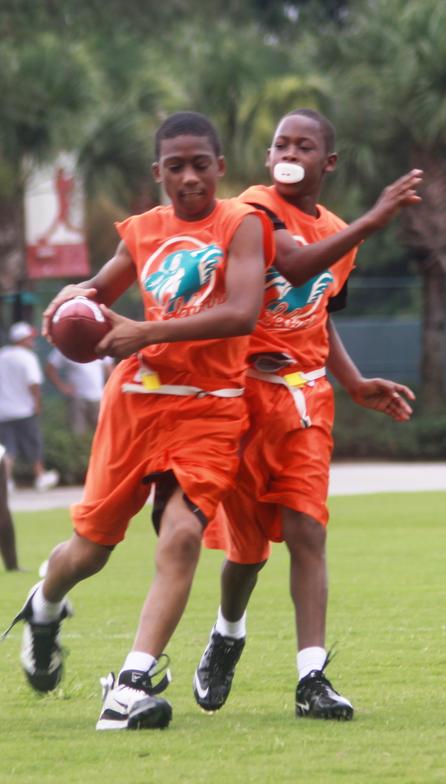 Darnell Durham III and Victor Tucker celebrates after another Dolphins takeaway.